Jack Bettridge archive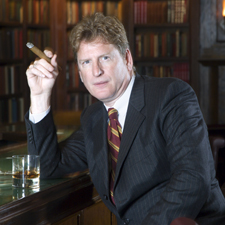 October 2013
Posted: Oct 31, 2013 2:30pm ET
When you think of a Churchill that requires a specialized environment to maintain its integrity and that will develop mold under the wrong temperature and humidity conditions, you usually picture something the color of leather and about seven inches long by 47 ring gauge, like a Romeo y Julieta. In this case were talking about an orange gourd of quite a bit larger dimension: a Halloween pumpkin. Pictured here is an entry in the Louisville, Kentucky, Jack-O-Lantern Spectacular. A friend and local publicist Philip Ruskin snapped the shot and submitted it.
Posted: Oct 18, 2013 10:00am ET
First of all, I'd like to profess my complete innocence in the case of the missing 65 three-bottle cases of Pappy Van Winkle's Family Reserve 20 Year bourbon and nine bottles of Van Winkle Family Reserve Rye taken from Buffalo Trace Distillery, in Frankfort, Kentucky. My defense rests on three pillars. 1) I have an alibi: I wasn't stealing Bourbon in Kentucky at the time, but drinking at my local pub, where I can produce several patrons who will have foggy memories of that; 2) I'm sober at this writing: I think everyone can agree that had I taken that much of the magical elixir that is Pappy's I would have put a serious dent in that $26,000 worth of whiskey by now; 3) Police believe it was an inside job: No one in their right mind would hire me to work in a Bourbon distillery.
Posted: Oct 16, 2013 10:00am ET
This is going to be hard to write without seeming to gloat, but I'm going to plow through anyway and hope for your indulgence. I just experienced about the greatest day of whisk(e)y drinking that a fellow can have: the New York WhiskyFest Weekend Seminars. It was part of last weekend's extravaganza of brown spirits at New York's Marriott Marquis. If you're familiar with WhiskyFest, an event produced by Whisky Advocate magazine (a Cigar Aficionado sister publication, formerly called Malt Advocate), you know the nighttime sessions are must-go events, with the opportunity to walk the floor and sample dozens of hard-to-find drams in one convenient setting.
---
---
Search our database of more than 17,000 cigar tasting notes by score, brand, country, size, price range, year, wrapper and more, plus add your favorites to your Personal Humidor.
---
---