Jack Bettridge archive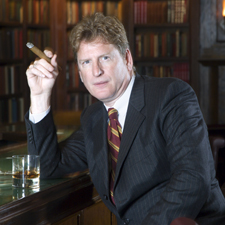 March 2007
Posted: Mar 30, 2007 1:33pm ET
It was bound to happen. The new cocktail culture has been driven by improving ingredients: better spirits, freshly squeezed fruit juices, etc. Now someone has jumped in with "artisinal mixers." No more store-brand tonic water or ginger ale for Charles Rolls, the former owner of Plymouth Gin.
Posted: Mar 28, 2007 6:11pm ET
We were so pleased that Michelob was reverting to something like its classic teardrop bottle that Savona, Mike Marsh and I decided that a taste test was in order after work with cigars. Time well spent.
Posted: Mar 25, 2007 2:33pm ET
How I got to this state on a Sunday afternoon: About two weeks ago, arrives on my desk a bottle of St.-Germain, a liqueur made from elderflowers and packaged in an outrageously cool-looking bottle that looks like one of those spaceships rendered in cartoons before they had spaceships.
Posted: Mar 16, 2007 1:14pm ET
Time: March 13, 7 p.m. Location : Back room of Dos Caminos Mexican restaurant and bar specializing in tequila, between 26th and 27th streets on New York's Park Avenue. Atmosphere : Hot, hot appetizers and hot blondes—rock'n'roll-groupie-caliber hot blondes—everywhere.
Posted: Mar 12, 2007 9:37am ET
I've recently had an epiphany about a whole class of spirits. I used to think that flavored vodkas were a scam. At best they were a crutch for people too lazy to squeeze a lemon or an orange into their drink.
---
---
Search our database of more than 17,000 cigar tasting notes by score, brand, country, size, price range, year, wrapper and more, plus add your favorites to your Personal Humidor.
---
---