Gordon Mott archive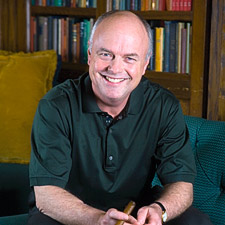 November 2007
Posted: Nov 27, 2007 9:53am ET
I have skipped a Thanksgiving smoke in recent years. There always seemed to be something conspiring against it. Sometimes, it was my post-Big Smoke malaise…I had just had enough smoking for awhile. Or I was at a house where smoking wasn't welcomed.
Posted: Nov 20, 2007 1:06pm ET
It's Big Smoke day in New York. After 14 years, I know that means the holiday season is on us too. It's always been the perfect kick-off to that time of year. For starters, we get a parade of our favorite cigar manufacturers coming through the city.
Posted: Nov 12, 2007 11:28am ET
I had just had one of the best weekends on the year. The Las Vegas Big Smoke. I know. I know. How can anyone take a comment like that seriously when it comes from the Executive Editor of Cigar Aficionado ? After all, it is our event, and I work for the company that puts it on.
Posted: Nov 7, 2007 3:20pm ET
A good friend of mine had a health scare about a year ago. A two or three a day cigar guy, his doc ordered him to cut back to one a week, along with a whole host of other dietary changes and medicinal regiments.
Posted: Nov 1, 2007 11:44am ET
Over the years as a Red Sox fan, I learned early on not to gloat. After all, there was that painful lesson in 1978 when I moved away from New York to Mexico and my parting shot to my Yankee fan roommate was something along the lines of "don't worry, there's always next year.
---
---
Search our database of more than 17,000 cigar tasting notes by score, brand, country, size, price range, year, wrapper and more, plus add your favorites to your Personal Humidor.
---
---