Gordon Mott archive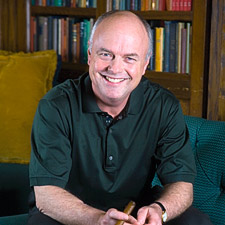 February 2010
Posted: Feb 22, 2010 11:04am ET
I sometimes forget about the origin of cigars. I know that might sound odd. But I'm not saying that I don't know where a cigar is made—that has become second nature. What I'm talking about is sometimes taking for granted the long arc of history and the incredible nuances of culture linked to premium hand-rolled cigars.
Posted: Feb 19, 2010 4:21pm ET
They stood at the back of the makeshift room set up inside the cigar factory with a podium at the front and rows of tables arranged for a cigar seminar conducted by the owner of Matasa , and the creator of the Casa Magna , Fonseca and the new Quesada brands.
Posted: Feb 18, 2010 2:54pm ET
I won't give you the details about last night's ProCigar Festival dinner. Suffice it to say I did not escape the merengue dance contest, which was officiated by Jos é Blanco of La Aurora. He called on me to come up to the stage and show the world how little I knew about the local dance step; all I can say is, "Wait 'til next year's Big Smoke, Jos é.
Posted: Feb 17, 2010 4:32pm ET
I'm back in the Dominican Republic, land of cigars. I'm always amazed when I realize how much time has passed since my last visit here because it always feel like I should come here all the time. At the same time, I always remember my first visit here back in 1992.
Posted: Feb 10, 2010 11:36am ET
Snow is coming down hard, and has been since about 7 o'clock when I decided it was wise to not rely on my commuter train system to get me home this afternoon. So, I stayed home, and have been in the process of knocking off those list items that have been there a long time, in between communicating with the Cigar Aficionado team—Dave, Jack, Greg, Andrew, John and Leah—as we wrap up production on our March/April issue.
Posted: Feb 4, 2010 2:55pm ET
Hope you all have checked out my new video with Charlie Palmer at Aureole restaurant. Tough duty that, let me tell you. Being down there in the kitchen with the stoves blazing was enough to remind me just how hard kitchen work can be.
---
---
Search our database of more than 17,000 cigar tasting notes by score, brand, country, size, price range, year, wrapper and more, plus add your favorites to your Personal Humidor.
---
---