Gordon Mott archive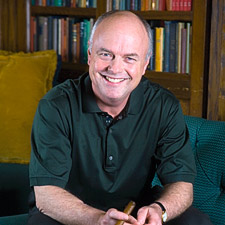 April 2007
Posted: Apr 24, 2007 10:28am ET
One of my first lessons in how cigars can be incredibly inconsistent came during the first few months after we had launched Cigar Aficionado. At the time, our ratings system was causing a bit of a storm in the cigar industry.
Posted: Apr 18, 2007 1:13pm ET
I was excited. It was spring of 1992, and Marvin Shanken and I headed off the Dominican Republic to tour the nation's cigar factories. I had been smoking cigars for nearly 15 years, but I had never actually set foot inside an honest to goodness factory.
Posted: Apr 13, 2007 4:10pm ET
"Cigars bridge all kinds of gaps, ideological, political…they promote harmony and a feeling of getting along." Those words from Rush Limbaugh drew huge applause from the cigars lovers gathered in New York last night for Cigar Aficionado's Night to Remember dinner, the magazine's annual fund-raiser for the Prostate Cancer Foundation.
Posted: Apr 9, 2007 10:05am ET
"Beautiful is more difficult than different." If you think about that for a second, it's a pretty profound statement. And it came from an automobile designer. Not just any designer, but a man named Ian Callum, who is the chief design engineer at Jaguar.
Posted: Apr 5, 2007 4:50pm ET
When we launched the Cigar Cinema videos in March, there were a lot of comments on CigarAficionado.com about cigar lighting techniques. Both James Suckling and I were questioned about the methods that we used to get our Bolivar Royal Coronas fired up.
Posted: Apr 2, 2007 9:30am ET
I'm not naturally disposed to feel sorry for cigarette smokers. But for the last three months in the midst of winter's deep freeze in New York, you can't help but share their pain. They are easy to spot.
---
---
Search our database of more than 17,000 cigar tasting notes by score, brand, country, size, price range, year, wrapper and more, plus add your favorites to your Personal Humidor.
---
---